CLUB MISSION: "TO SAVE LIVES, CREATE GREAT AUSTRALIANS AND BUILD BETTER COMMUNITIES"
Seacliff SLSC has grown from humble beginnings in 1930.
We are now one of the State's foremost Emergency Service organisations. Seacliff's clubrooms are located at the southern end of the Esplanade at Seacliff.
The first clubrooms however, were located at the back of the beach near the bottom of Wheatland Street, close to the Seacliff Beach Hotel. As the fledgling club grew in the pre and post-war period, a suitable block of land (current location) was identified for a more permanent site in the 1950s. Many club members helped with the construction of the first permanent clubrooms there.
The original site however, is still very much part of the club, with the patrol tower occupying a similar location on the Esplanade opposite the hotel, and much of the club's training and patrols are based in that area.
Seacliff has over 550 members, including approximately 220 Juniors, who train, patrol and compete for the club. The club provides many social activities for members.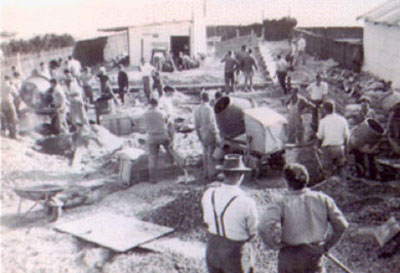 Seacliff SLSC members patrol approximately 2kms of beach, from Kingston Park to South Brighton, with a patrol base located west of the Esplanade, opposite the Seacliff Hotel at the bottom of Wheatland Street. The club has over 100 patrolling members who accumulate many thousands of patrol hours during a season, ensuring the public enjoy a safe beach environment.
The club competes in Junior, Senior and Masters competition, and has had success at State, National and International level, including the blue ribbon World Ironman title in 1984, courtesy of Dwayne Thuys. Seacliff has a particular strength in the core life saving areas of Rescue & Resuscitation and First Aid.
In February 2011 the Club embarked on an exciting rebuilding project in conjunction with the City of Holdfast Bay and the South Australian Government. This project will deliver the club one of the finest surf lifesaving facilities and premier beachside function and dining destinations in the state. It is due to open in November 2011.
1950 – Original Foundation Was Laid
1950 – Original Clubhouse – Single Storey
1960 – Added A Second Storey
1970 – Added A Kiosk on the First Storey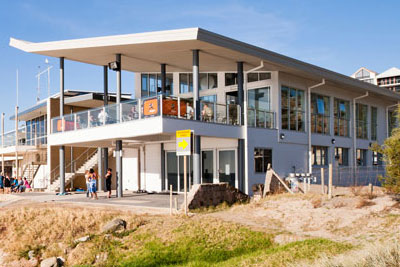 SEACLIFF SLSC PLATINUM SPONSORS